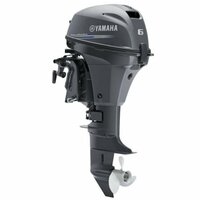 Our Summerfun boats are now also available with Yamaha 6 hp outboard motor.

We have immediately included the powerful Yamaha 2-cylinder 6 hp outboard motor with manual start in our range.

Yamaha is known worldwide for its reliable and durable outboard motors for boats. So is this model. This compact 4-stroke Yamaha outboard motor is extremely quiet and an affordable entry-level model for our Summerfun boats.

The power and performance of this 6 hp Yamaha outboard motor should not be underestimated. Although it appears to be a smal engine, it delivers impressive performance. The price, reliability and performance of this little powerhouse are the perfect combination with the comfort and safety of a Hasle Summerfun boat.

A new ready-to-sail Hasle Summerfun boat with Yamaha 6 hp is already available for € 6395. Optionally, we offer a matching Pega trailer for € 1795.00. These prices include VAT and delivery (in the Netherlands).

We always have a few Summerfun boats ready to sail, so that you can sail right away. Do you want to sail today or tomorrow? Please contact us about the available colors and our super fast delivery time.